Here you find the description of the accommodations
On this page you will find an overview of participating accommodations with a concise description per accommodation. Contact us by contactformulier for more information about these accommodations. You can also contact them directly by following the link.
Bed and Breakfast Casa Traca
Casa Traca is a small, informal B & B in central Portugal. Located between Coimbra and Viseu at the foot of the Mont'Alto in the Serra do Açor. Casa Traca has 4 spacious themed rooms and has a lovely relax garden. A good base for trips to Piodão, Fraga da Pena and Coimbra. There are also many river beaches in the area and picturesque villages with many restaurants.
License number: 27592/AL
For more information: Bed and Breakfast Casa Traca
Quinta Serena
Small-scale B & B / guesthouse with swimming pool between the hills, forests, vineyards and orchards of the Costa de Prata. Near the cultural heart of Portugal, 6 km from the coast and the bay of São Martinho do Porto. Come and enjoy peace and nature to the fullest.
For more information Quinta Serena
License number: 68558/AL
B&B Quinta Laranjal de Arriba
This quinta consists of several buildings where the guest house and the owner's own home are housed in the main building. The quinta has 4 rooms, each with its own bathroom. The former churrasqueira was transformed into a breakfast room with kitchen and a lounge with fireplace. There is a large swimming pool (8x4m) with massage jets in the staircase and a terrace around.
License number: 41278/AL
For more information: Quinta Laranjal da Arriba
Quinta das Cegonhas
In the mansion at the entrance you will find the following facilities: reception, bar and restaurant. On the first floor are the rooms and apartments. On the west side is a terrace with a swimming pool behind it. Behind the house is a campsite with 50 pitches. There is also a holiday home on the upper terrace of the campsite. License number: 4331
For more information: Quinta de Cegonhas
Mesão Provensende, Douropass
Where the Pinhão meanders through the valley and later on enters the Golden River, the Douro, douroPass rents a number of tasteful studios and rooms. In the protected wine village of Provesende three studios and an upper house can accommodate one to a maximum of 12 people.
License number: 28124/AL
More information: Mesão Provesende Douropass
Quinta do Cotovia
B & B "Quinta da Cotovia" meaning "estate of the Lark" offers you the opportunity to spend your holidays close to nature. Centrally located in the middle of Portugal, near the city of Tomar, region of the Templars, you will find B & B "Quinta da Cotovia" surrounded by olive trees and cork oaks.
License number: 52300/AL
More information: Quinta da Cotovia
Casa Tocomado
Tocomado is a small bed and breakfast with a homely atmosphere with separate 2 bedrooms with private entrance. Both bedrooms are equipped with a walk-in shower, toilet, sink and hairdryer. From the bedrooms you have a beautiful panoramic view of Cabeceiras de Basto.
License number: is in application
For more information: Casa Tocomado
Plano 5
Plano5 has four stylish double rooms, each with its own entrance and terrace overlooking the valley and the Serra da Estrela. Each room has a post-modern décor with industrial elements, and includes heating and a private bathroom. License number: DC7121-077495472016
For more information: Plano 5
Quinta do Cascalhal
A small-scale glamping in northern Portugal. Each tent has its own private swimming pool as well as the existing guest house. Every evening the hostess cooks a luxurious three course dinner. Located in the beautiful Minho region, it is here and top enjoy.
License number: 36692/AL
For more information: Quinta do Cascalhal
A Boa Vida
Enjoy a wonderful holiday with the whole family, friends or family in our 3 bedroom holiday home.
Apartment A Boa Vida is located on resort Clube Albufeira Garden Village, in Albufeira | Algarve | Portugal
License number: 93431/AL
More information:  A Boa Vida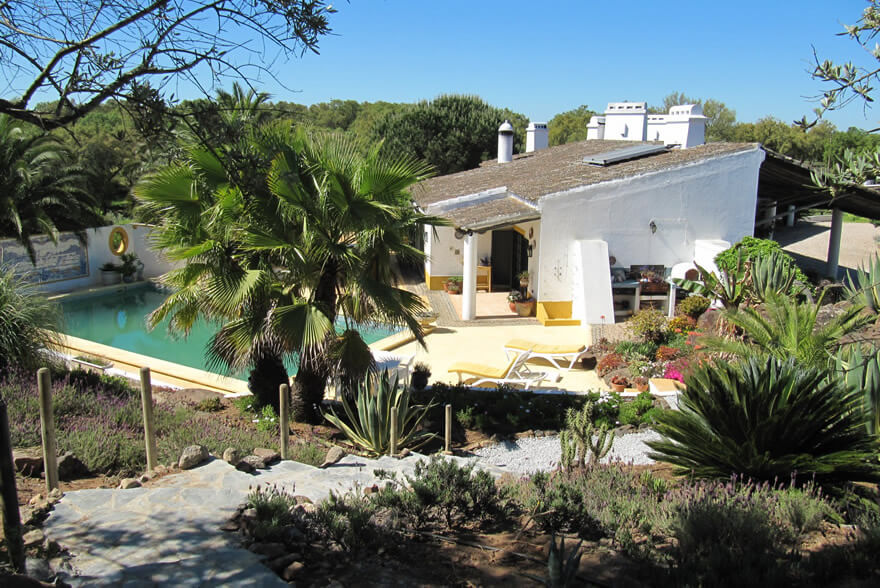 Quinta do Cano
Quinta de Cano is located on the quiet, agricultural side of Évora, just 3.5 km from the historic center. For those who like to walk, it is directly connected to a walking path through the beautiful surroundings of Evora. It is also only a 15-minute drive to a reservoir. The Quinta has a beautiful garden with two covered terraces and a terrace with a swimming pool. License number 5166
For more information: Quinta do Cano
Glamping Quinta dos Corgos
A combined glamping with 3 luxury safari tents and 3 Bed and Breakfast rooms in central Portugal near Tabua. On the 13 ha. large quinta are a swimming pool and many farm animals.
License number: 62879/AL
For more information: Quinta dos Corgos
Villa Branca Barreiros
This completely new B&B in Northern Portugal has 5 rooms with their own bathroom facilities. The B&B also has a wonderful swimming pool in the lounge garden. Key concepts for your hostess and host, Elly and Gerard, are "pampering, enjoying and resting"
License number: proceding
More information: Villa Branca Barreiros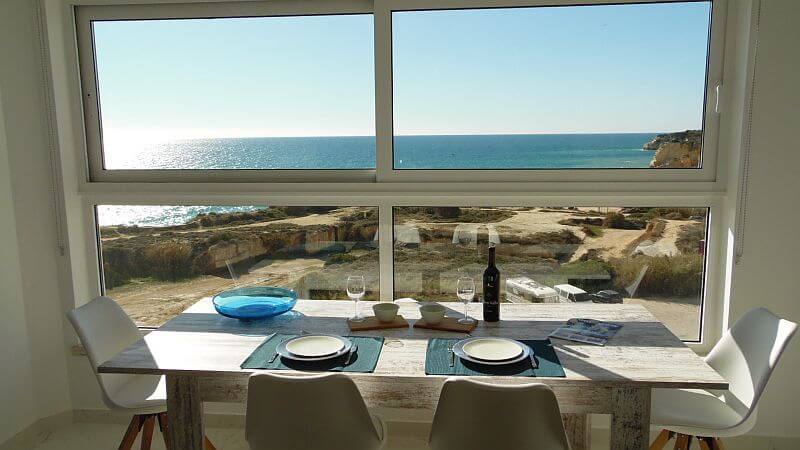 Appartement Monique
This luxury apartment is located directly on the promenade of Armação de Pera. Located on the 5th floor it has a magnificent view over the sea. The apartment is modern and luxuriously furnished and also fully equipped.
License number: 60059/AL
More information: Appartement Monique
Olival das Hortas
Casa de Ruina; A wonderfully spacious holiday home for the pampered guest. With a very large screened terrace with loungers to finally read your book in silence or laze in the sun. A lot of privacy in this casa.
License number: 25301/AL
Quinta Japonesa
Small-scale holiday park with 2 apartments, 1 holiday home and 3 glamping tents. Heated swimming pool and various play opportunities and beautiful zen garden. Because of its location in a green valley it offers a lot of peace and privacy! Bert and Michelle welcome you personally.
Lisence number: AL/875
Monte Sao Miquel
Monte São Miguel is "The Place" to relax, to enjoy peace, quiet and the rhythm of nature. A place to relax in the midst of an exuberant flora and fauna. Everything exudes the simplicity and richness of country life. The furnishings of the houses offer every comfort.
The house is located in the Alentejo, a part of Portugal where time seems to have stood still.
License number: pending
More information: Monte Sao Miquel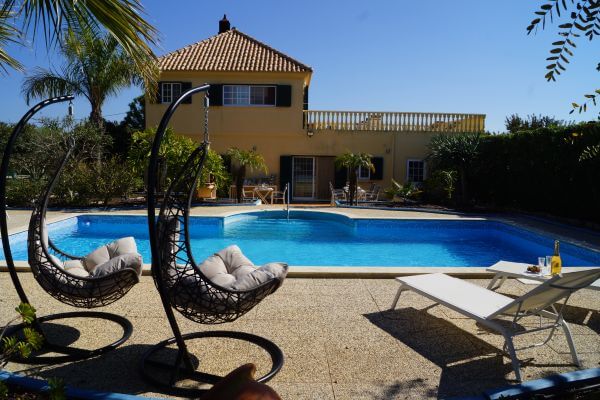 Casa Relax
Small-scale B & amp; B in the East Algarve. All rooms have spacious terraces with a beautiful view over the lagoons of the Ria Formosa nature reserve. In the tropical garden there is a swimming pool and garden bar. The B & amp; B is located just a few minutes from the pleasant fishing town of Olhão and less than a kilometer and a half from the boulevard. The region has retained its authentic Portuguese atmosphere but also offers a lot to holidaymakers who enjoy nature, hiking, water sports and shopping.
License number: 114352 / AL | More information B &  B Casa Relax